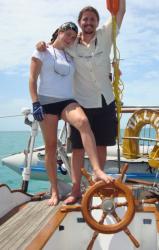 Our wedding ceremony will be on the beach in Oceanside, Oregon. Our reception will be at the Clifftop Inn, also in Oceanside. You can find directions to Oceanside on the map below.
The wedding ceremony will start at 3:30pm.
The reception will start at 6:00pm. There will be live Celtic Rock from 6:30 to 9:00.
What to wear
The wedding is outdoors on the beach, please dress comfortably. It may rain. Ladies, if you wear heels you will have to go barefoot to the reception, as the reception hall has a soft pine floor.
What to bring
Please bring yourself! We live on a 37 foot sailboat, so we don't have room for three toasters. For that reason we're asking that you do not bring a wedding gift. If it is important to you that you get us a wedding gift, we would be most appreciative of a donation to our travel fund.
The wedding reception will only last ~20-30 minutes on the beach. If you would like to be seated during this time, please bring your own beach chair.
Food & drinks
Appetizers and cake will be served at the reception. We have made sure that there is time between the wedding and the reception for those of you who would prefer a full dinner. We are providing 3 different local micro-brews, wine and Mojitos (our favorite sailing drink).
Where is Oceanside

View Larger Map
Directions from Portland
Take Highway 26 West
Follow the signs for Tillamook, taking a slight left on Highway 6 West
Drive through Tillamook, follow the signs for Oceanside (or the signs for the Hospital)
Follow third street out of town past the hospital, 3rd street becomes Netarts Highway / 131 -- a very windy road, please drive carefully and enjoy the scenery.
A couple miles after passing through Netarts you will reach Oceanside. Drive straight, into the small town.