I really liked Block Island, but the pull to keep on moving hit. (along with the desire for a cheaper place to keep the boat). We headed out with Salem, Massachusetts in mind as a final destination. I had researched the area thoroughly when I thought I had a job opening there and it was very affordable.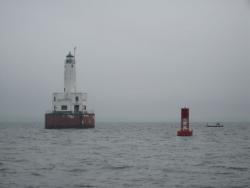 The first stop on our trek up north was to be Onset Island, MA. We were a bit nervous about leaving due to losing our radar reflector in the recent storm.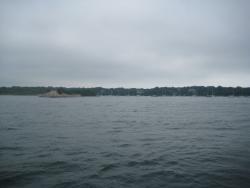 The Rhode Island/Long Island area can be very foggy, especially in the mornings. True to form the Rhode Island Sound produced almost two hours of thick fog, but as the day went on it turned into a nice sunny day with light winds. The light winds unfortunately meant a lot of motoring and not reaching our destination. We pulled into quaint little Quissett Harbor, RI around 7:30 pm.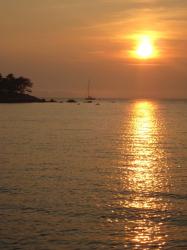 An evidently popular haven, we shared this pretty little harbor with a least 50 other boats mainly of the sailing persuasion. After dinner and a beautiful sunset we hit the hay early. Unfortunately, the loud wedding party at the nearby church had other ideas.
The next morning we struggled to get out of bed early in order to get as close to Boston as possible. The thick fog around our boat quickly convinced us to sleep in a little longer.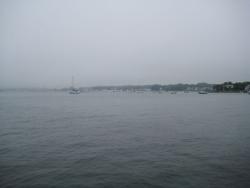 We finally were on our way by 10:30am with no ambitions greater than our previous destination of Onset Bay in mind. The day remained lightly foggy all day putting the captain in a nervous mood, but the trip was uneventful and we reached Onset Bay by 2pm. Our arrival to the mooring field was met with laughter when, in attempt to distinguish one mooring field from another, Jeremy asked the young dock-master what color his balls were.
We were quickly charmed by this little town with its little shops and blues restaurants. The weather and the small, rocky beach reminded us of the beach-side towns of our childhood memories. This and the fact that the moorings were only 30$ a night tempted us to make this area our final destination, but dreams of playing in Boston lured us on.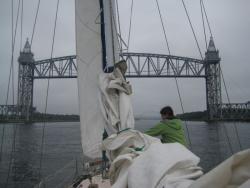 The next morning we left at 8am in order to perfectly time our entry into the Cape Cod Canal.
The Canal was an adventure in itself. All who take this short cut to Cape Cod Bay carefully watch the tides and currents to ensure that they won't have to fight the strong currents or end up flying through at breakneck speed.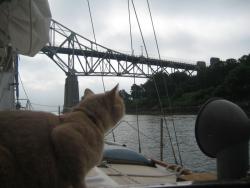 Our timing was perfect and the current slowly increased our speed as we flowed down this beautiful canal. The whole length of it was lined with lamps and well-used sidewalks, while still being very natural in appearance. The canal also had 3 bridges of varying type and all were about 135 ft high. The rest of the sail was lovely.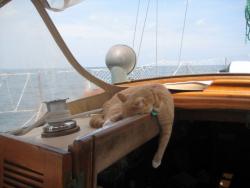 We had intermittent sun and clouds, not to mention 25 knots gusts that sped us on our way.
Our dreams of fun quickly dissolved shortly after arriving in Boston.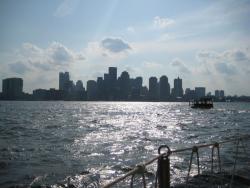 We have been finding out along our travels that large cities are not that much fun from a sailors perspective. We found a mooring field close to downtown that was not affordable, but more so than any other options. Everyone who worked there was very friendly and helpful, but the mooring field itself was a bit hellish.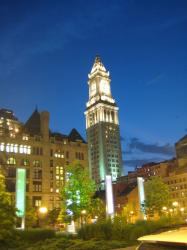 All day and most of the night you heard party boats and the subway roaring beneath the water. The constant traffic in and out of the marina meant that we rocked nonstop in the constant wake.
Despite the uncomfortable living situation, we did have some good times.
Our first night there Jeremy and I wandered the streets of old Boston and had dinner at the the oldest tavern in the U.S.A., The Bell in Hand. Afterward we read the entries at a unique Holocaust memorial and admired the architecture. Most of the rest of the week Jeremy worked and I attempted to locate necessary boat supplies (such as a new radar reflector and oil filters).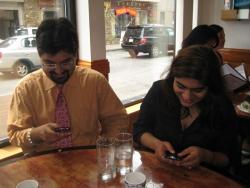 We did break for lunch with Jeremy's friend Mahesh and his wife, Anusha one day. I purchased my iphone that day and it is good to look at this photo and see that we aren't the only geeks who sit in restaurants and play with their phones.
We also partook in some of the amazing variety of food in Boston. One night we had classic Irish food at the Black Rose and on another night we had great vegan food at MyThai Cuisine.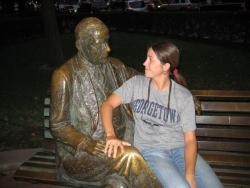 Not to mention the great lobster and drinks we had at a nearby seafood restaurant. We found a really cool book shop as well. It had new and used books, and while we were there we stocked up on Paris/France guide books in preparation for our upcoming trip.
Despite all that there was to do in Boston, Jeremy and I were glad to be only our way when the weekend arrived.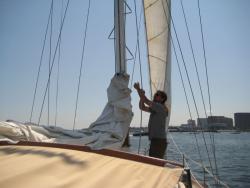 Inspired by the many sailboats around us, Jeremy decided that we would sail off the mooring ball. It was a little tricky, but we managed it okay. It was a beautiful, sunny day and Salem was only a short distance away. That meant that we would not have to use the motor in attempt to reach our destination on time.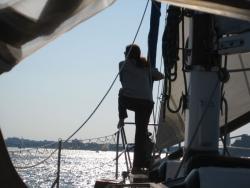 The only thing that marred this perfect sail to Salem was having to avoid the hundreds of other sailors out enjoying the day. Before we knew it Jeremy and I had arrived in beautiful Salem Harbor.