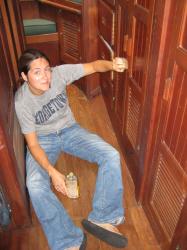 As you all know by now, Jeremy and I have been living on a mooring ball in the only mooring field in Key West. The field is located around Fleming Key, which is not as near to the fun part of Key West as the marinas. Our experiences here are a mix of good, bad and mundane. Sometimes Jeremy will work all day and I will fill my days cleaning, cooking, and working on projects. Sometimes life is chocked full of meeting new people and trying new things. Regardless, it is always a learning experience.
I suppose even our mundane days are a little extraordinary. It has been an interesting challenge for me to tackle projects around the boat. I have learned that I can do things like hook up outdoor speakers and I love seeing what the brass looks like under what must be decades of corrosion.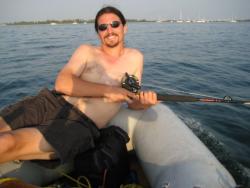 One of my biggest sources of amusement here is watching Jeremy's fishing attempts. I have even joined in on occasion in hopes of fresh fish for dinner.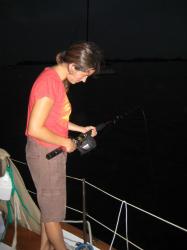 He wants so bad to catch our meals, but I suspect that the mooring field is not the best of fishing grounds. There are many little fish and a few amazingly huge tarpon, but not much else.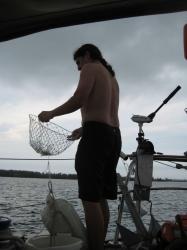 Not even a few crabs as Jeremy was to discover when he had to go "snorkeling" one day when the string slipped off the crab trap.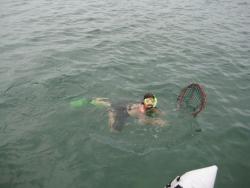 You can also see in the picture Jeremy brandishing a large fishing net. He decided that since he was in the water he would try catching some of the small fish as well. This too did not work out, much to my relief. I imagine that those fish have more bones than meat.
In the evenings Jeremy wraps up work and I cook dinner in our galley. We often watch a movie or show on the computer, but sometimes we take a rum drink up to the hammock to watch the sun set.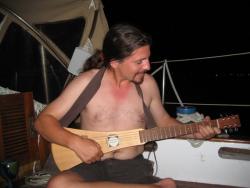 One night Jeremy brought out his travel guitar and played out under the stars. I love the rare times when Jeremy plays his guitar and sings. I especially enjoy when he plays his own songs.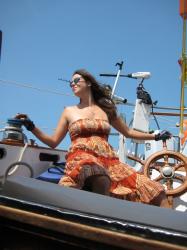 On our less mundane days Jeremy and I practice sailing around Key West. We have attempted various wave and wind conditions getting the feel for what sails work best in each situation. It is exhilarating to be out by ourselves in this brilliantly colored ocean seeing what we can do.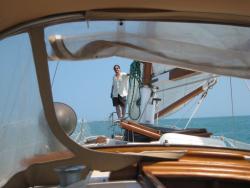 We even recently docked the Miramar by ourselves for the first time at the transient dock.
One of the most challenging adjustments to life in the mooring field has involved getting into town. Every few days we run in to get ice, water, food, and the much wanted shower. We chose to get an electric engine because we are concerned about our planet (i.e. tree hugging hippies). This means that our engine sucks a battery dry in a little over an hour and that we have jack for horse power. I wouldn't even call it horse power, more like pony power. Anyway, getting into town is always an ordeal, so Jeremy finally decided to get us a 4 stroke engine.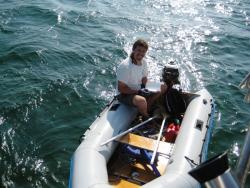 He was so excited. We celebrated by going to town and having dinner out. On the way back the engine decided that it was going to die on us every 5 minutes. We found out from our very kind and helpful neighbors, Scott and Annie that this engine has this problem by design. They had this same engine previously and had the same issues. They gave us a tow to town where we exchanged the Mercury 3.5HP lemon for the better functioning Mercury 4HP on Scott's recommendation.
We are very lucky that the mooring field is filled with nice people like Scott and Annie. Besides Scott and Annie we have also had a few chats and some assistance from neighbors Roberta and Jim. They are retirees who, like many of us here, stopped here on their way to somewhere else and haven't been able to leave for one reason or another. We have noted that most everyone looks out for each other here. This lifestyle seems to connect people, probably because we all know that things can and do go wrong and we would like to think that someone will be there to save us.
At one point there were also a few people here close to our age. The sailing vessel Seren came to Key West for repairs and lived for a short time on one of the mooring balls closest to us. We immediately noticed them because, besides being young, they were also the first boat we had seen in the field flying a foreign flag. One day we ran into some of the crew at the market and they invited us over.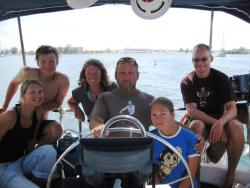 The crew turned out to be quite a mix of varying sailing experience, careers, and nationalities. There were six of them all together including: Dom from Scotland, Steve from Australia, Nicki from New Zealand, Oshy from Germany, Nana from Austria, and Dee from a little bit of everywhere. Steve had bought the Seren, a 38 foot Hunter, in Miami with the intention of fixing it up and selling it for more money in Australia. We went over to say hi one night and ended up staying for hours talking, drinking, and eating some very good curry. The second night we had them over for pasta and drinks. We had a great time and really enjoyed their company.