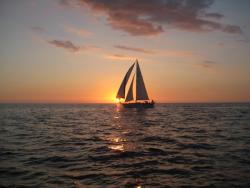 We're 70 nautical miles from Key West, mid day on March 13th after running through the night in light winds. It has felt like a long time coming, but we're finally on the move, headed south. The past couple weeks have been a blur of work, both preparing the boat for this trip, as well as trying to wrap things up at my consulting company in order to take this little vacation.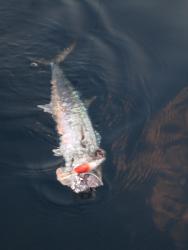 I was awoken this morning just after sunrise by the clicking of our fishing pole, an hour or so after my watch had ended. By the time I motivated myself up to the deck to investigate, Bill had gotten the 20 pound King Mackerel along side the boat. I scooped it up with our net, and we paged through our Sport Fish of the Atlantic book for some time to positively identify it. We were quite excited when we confirmed that we'd caught something tasty for lunch.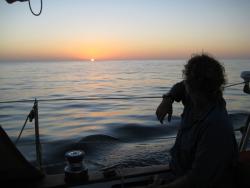 It was a long night, our first overnight trip on our newly renamed sailboat, Miramar. We aimed to split the darkness into three 4 hour shifts, though in reality we each took about 5 hours at the helm. Jamie had the first shift, sailing alone under two sails until about 1:30 in the morning. I took the next shift, and the winds promptly died. We lowered the remaining sails then I motored on at 5 knots, following the line plotted by our newly purchased GPS chart plotter. Around 6, Bill roused himself and took the final shift of the night and into the morning.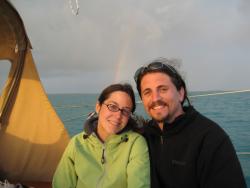 Everyone was moving again a little after 10, and Jamie treated us to a fantastic, hearty pancake meal, whipped up from scratch and complete with walnuts and heated Grade A maple syrup. Not a bad way to start the day. We raised our main and staysail, then spent the better part of an hour figuring out why our Genoa had refused to furl properly last night, finally running it back up as well. Bill is now down below napping, and Jamie is below putting the boat back together after our night of sailing. I'm sitting in the cockpit, lazily steering us south toward Key West, trailing a fishing line over the stern and enjoying a beautiful day.
Looking back over the past couple of weeks, we've gotten an amazing amount done. There was a lot of basic yet critical things needing to be repaired or replaced on our boat. We had scheduled a haul out, but missed the first date when the yard canceled on us the morning we were scheduled to be hauled due to high winds and concerns about it being an insufficiently high tide for our draft. This turned out to be a blessing in disguise, as at that point it was just Jamie and I, and we weren't sure yet what we were getting into.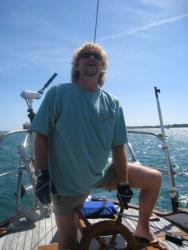 Our friend, Bill Spivey, arrived from Sitka, Alaska at the end of February, with the plan of helping us sail to the Bahamas. Instead, he found himself buried in endless amounts of boat work, starting first with what would seem like the simple task of getting hauled out. We scheduled another time with higher tides, and on the intended day set out. Still at the dock, we were set back a little when our fan belt unexpectedly split and had to be changed. With that quickly fixed, we then found that our fuel line had a small leak at the end where it was old and worn. Again, a simple enough fix, but by this point we were falling behind schedule. Finally on our way heading North on the intracoastal, we found that there were two bridges we'd not noticed on the chart, the first of which we missed by minutes, having to wait another 30 minutes for to rise. All said and done, when we finally arrived at the marina for our haul out, we'd missed the high tide by a little over an hour. We called them on the VHF radio and they recommended we give it a try anyway.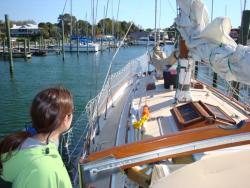 The marina turned out to be absurdly small. The entryway was a little less than twice our beam, and the width of the marina itself was only a few feet longer than our 37 foot boat. The winds were blowing out of Tampa Bay up the Manatee River across the marina, making an already tight fit even more difficult to manage. And if that wasn't enough, a small sailboat shot in before us and tied up right where we were supposed to be hauled out (which turned out to be owned by the owner of the marina who ironically claimed to be there just to see if he could help out). Bill made an impressive 17 point turn in the tiny marina, fighting the wind, without actually hitting anything, nothing short of a miracle in my opinion. We headed back out of the Marina, and then let them know we'd try again when the boat was out of our way.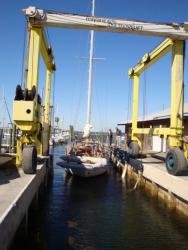 Finally clear, Bill brought us in again and we all felt an amazing amount of relief to know that we were finally going to get hauled out. As it turns out, this was not going to happen. The tide was already falling, and they were unable to get their haul out straps under our deep hull. After a few tries, they suggested we tie up in one of their deepest slips for the night. It being Saturday, they wouldn't try again until Monday.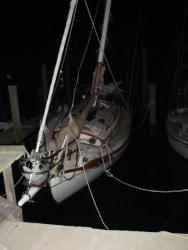 That night, Jamie and Bill were running errands while I logged in and caught up with the office. A boat passed on the Manatee river bringing in swells in the still falling tide, and we started bumping bottom. It quickly became clear that it was going to be a long night as our boat leaned further and further over, hanging off the dock and sitting on bottom. The weather forecast called for a nasty front coming through late that night, leaving us much less than content with our predicament. Fortunately the tide came back in before the front hit, and we were floating again when the winds and waves picked up. Getting out of the tight little Marina in a storm didn't sound fun in the least, but neither did another night of sitting on bottom, this time with a storm beating us none to gently.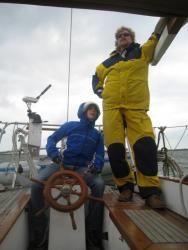 We called around, and decided to head a few miles up the Manatee River to the Twin Dolphins Marina. They had a an available slip for us, and assured us that there was no need to make a reservation as they were confident nobody would be out on the water that day. We laughed to ourselves as we had no real interest in being out on the water that day either, but it clearly was the lesser of two evils. Bill patiently talked Jamie and I through the steps necessary to get us out of the Marina safely, and with all hands on deck we slowly backed out of our slip using a spring line and more brains than brawn, then motored out and to the eventual safety of our new transient slip.
We waited out the storm for a couple of days before heading back down river to try the haul out a third time. As it turned out, even with the new higher tide they still couldn't haul us out. Fortunately, the marina manager had a friend that owned another marina that he called, setting it up for us so we could get hauled out there at the same bargain price he'd attracted us with in the first place. Our new haul out was at Bradenton Beach Marina, another fortunate twist of fate.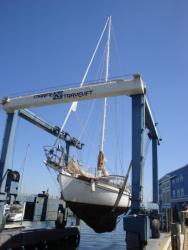 I spent the morning in my office in Sarasota while Jamie and Bill motored the boat to the new marina. I met them when they arrived, and the marina staff immediately impressed us with their efficient skill. Within an hour we were hanging, and that evening we were blocked up and began an intense week of boat work. For the first couple of days, Jamie and Bill worked exclusively on the boat while I wrapped up some tasks at the office and joined them when I could. After the first two days I too focused exclusively on the boat. Our intended Saturday splash slipped to Sunday when they offered to leave us up on blocks without charge another night as we finished up our seemingly endless tasks.
While on the hard, we got our bottom scrubbed and newly painted, helping her to glide through the water and preventing marine growth. She also received her new name, changing from Tillicum to Miramar. We replaced all of our through hulls, starting with just one that slipped when replacing a fitting on the inside. When it came off, we found it was eaten up by electrolysis and decided correctly that the others were probably equally in need of being replaced. The yard made impressively quick work of it, leaving an odd feeling of being able to see completely through our hull in 6 places until they installed the new through hulls and sea cocks. Our half-inch-plus-thick hull is much stronger than more modern fiberglass boats.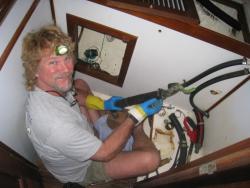 We also replaced the sea strainer for our engine, going from an old brass fixture that you couldn't see through or easily clean the filter in, to a nice new clear plastic filter allowing us to see water flowing and very easily clean.
I should not that though I routinely use the word "we", it was only thanks to Bill's presence and consistently determined work ethic this was possible. He did the bulk of the work himself with our help, and patiently taught us what we needed to know as new boat owners, getting more done in a few days than we would have managed alone in many months.
Other tasks included re-plumbing the head, replacing the frequently failing electric toilet with a brand new manual head, replacing an old frozen gate valve with a new functional ball valve. One plumbing route now goes to our storage tank, and the other goes through our newly installed Electro-San which "cooks" our waste before sending it overboard.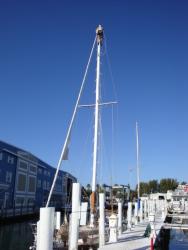 Bill also spent most of one day going up our mast and getting the mast head light and steaming light working. We fixed the VHF radio, though after buying a new cable discovered that the old was comprised of several cables, one of which was simply unscrewed in an inaccessible area for no obvious reason. We mounted our new 4208 Garmin GPS Chart Plotter, and are still in the process of mounting its transducer so it not only shows us where we are, but how deep we are. Bill installed two functional bilges, an obvious necessity which alone makes me feel much better. He also taught Jamie some new wiring skills, and she dived right in to ripping out old unused wires and replacing many that were old and poorly installed.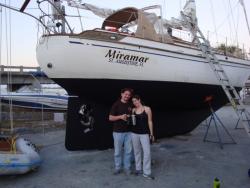 Jamie also managed to sell our Subaru, and tracked down our boat documentation and papers allowing us to bring Quixote, our ship cat, into the Bahamas.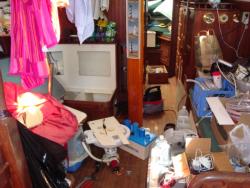 None of these tasks sound especially difficult, but it required non stop effort and everything consistently took longer than expected. It was a long few days, but by the time we splashed we felt like we had a whole new boat, and one that we could trust to keep us safe. We still check all our new through hulls every day, and so far everything is proving to be solid.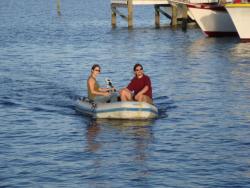 Tuesday and Wednesday night we anchored up in front of Sarasota and ran some final errands, testing out our new electric outboard as we skiffed back and forth between the boat and town. Then, finally, Thursday morning we set off for Key West. Our plan was to head slowly down the coast, taking our time and anchoring each night. However, as the day progressed, we decided that conditions were good enough that it instead made sense to sail through the night. The winds have been varying from 5 to 15 knots, the seas are small, and we're making steady progress.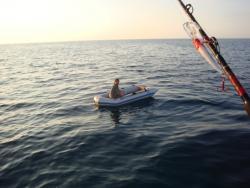 As the sun set last night, we enjoyed our first sunset on the Miramar out at sea. It was decided that we should commemorate the moment with photos, so I dropped into our little skiff while Jamie and Bill sailed the boat around me as the sun set. I can confirm, she truly is a beautiful boat.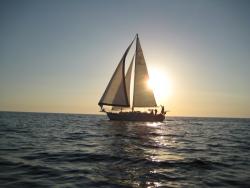 About an hour after I awoke for my night watch the clouds gave way to a clear sky full of stars. The nearly full, waning moon lit up the water, and I could see a flat and empty horizon all around. I let my mind drift, sometimes to nagging reminders of many tasks left unfinished, and sometimes to the unknown future. Key West is still 67 nautical miles ahead of us, with a probable land fall some time tomorrow after our second straight night of sailing. And after that? Perhaps we'll make it to the Bahamas as originally planned, or perhaps we'll decide to stay in the US for now as Bill is already half way through his vacation and we're fully aware of how much we still need to learn. Regardless of where we go or what we do, the future does look to be an enjoyable place. In the short term I plan to head downstairs to cook up that Mackerel for lunch.