I apologize that I have not been keeping Jibnotes current. I will attempt to catch up on our adventures throughout the next couple days.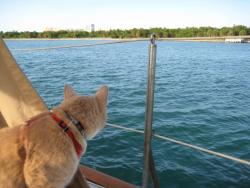 We are slowly, but surely making our way up the East coast. Along the way we have been visiting friends, trying new things, and realizing that reaching Maine by June 1st is probably a pipe dream. At this rate it looks like we will be lucky to reach the Baltimore area in time for the annual APTA(American Physical Therapy Association) conference June 10th-13th.
Since my last blog we have traveled quite a bit. The first leg of our travels was Marathon to Key Largo.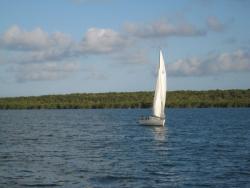 Key Largo lives up to its name and it takes quite a while to get past it. We decided to stay the night anchored up behind Rodriguez Key, which is about half way up Key Largo. It was very peaceful and quite pretty. Anchoring there was a bit of a struggle.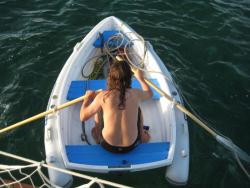 Jeremy took the dinghy out to set the second anchor(a Dansforth). He also dove down to the bottom to check our first anchor(a Bruce). From this Jeremy gained some insight in how our Bruce works or doesn't work as it may be.
We left the next morning to get to Miami.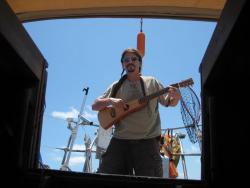 During Jeremy's shift he brought out his guitar and played while sailing. I think that Jeremy should do this more often. His playing and singing had a heartfelt quality that was quite beautiful. The trip was a long haul and we arrived at nearly sunset. We anchored in a channel outside of Hidden Harbor because the Harbor was packed. Jeremy had a friend in Miami from previous job named Mayte. We had a late dinner of sushi with her and husband, Gonzales.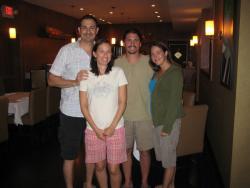 At dinner Jeremy tried to talk them into joining us on our trip up as far as Ft. Lauderdale. Eventually Gonazales decided that he would call in sick and join us. Mayte could not come because someone had to pick up their two little girls.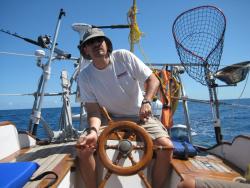 The trip to Ft. Lauderdale was nice, but the wind was not cooperating and in mid sail Gonazales and Jeremy switched our jib for our genoa to make better use of the light winds. Our foresail is on a rolling furling and this activity can be quite a pain. We had decided previously to moor at the Los Olas Mooring field on a recommendation from a friend of Jeremy's. The mooring field was a tiny little man-made bay with about 8 mooring balls and ridiculously high per night fee. Mayte met us there to pick up Gonzales and Jeremy rowed her and the girls out to see the boat.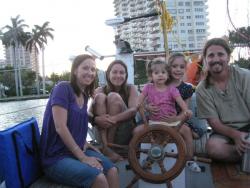 The little girls were adorable, but I think they were more interested in the cat than the boat.
While we were in Ft. Lauderdale we spent time with our friends and tried to ignore just how obnoxious a big city was in comparison to the peaceful Keys. We spent time with Jeremy's friends John and Joe for the first day or so, and my friends Kawika and Anna toward the end.
We must admit the highlight of our recent travels was pulling in to St. Augustine.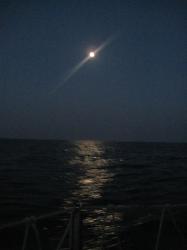 We had pulled two allnighters to reach it. The first night we were flying at 8.5 knots through 3-4 foot waves even after we took down one of the sails.(we suspect we slipped into the Gulf Stream). I had the first shift and managed to keep my cool for hour before I woke Jeremy to take down another sail. Speeding along in large waves can be a bit unnerving in the dark.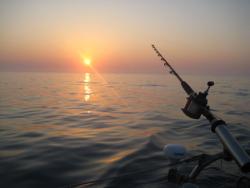 Everything had calmed down by the second evening and when I woke early the second day the sea had a glassy smoothness that was amazingly beautiful. The sun rose and a mist hung over the ocean creating an ethereal atmosphere as we sighted St. Augustine on the horizon.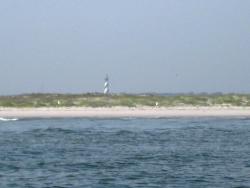 There was a strange sensation of homecoming as we passed the St. Augustine beaches and its lighthouse.