Most of you know that we have jokingly referred to our former 3rd party, Bill as Captain Ron. Bill came to Florida in hopes of joining us on an amazing sailing trip to the Bahamas. Unfortunately, I think he got more than he bargained for. Most of his vacation did indeed resemble a bad comedy. It started with 2 inexperienced sailors plus a boat in disrepair and ended with high northern winds ruining our chance of crossing the gulf stream. Bill did indeed live up to the nickname as he battled the worst that Murphy's law can dish out and we even had fun every once in while.:)
Bill had to go home last week without a single dive or hot Bahamian girl, but it hadn't exactly been bad hanging out in Key West. Our first couple of days here we stayed at a marina and worked during the day on various boat repairs. My favorite repair involved me climbing the mast.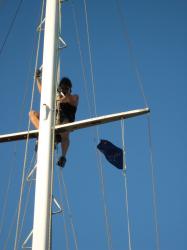 We had a pointless block (pulley) tied to the back stay (line that attaches the mast to the deck) about half of the way up that we wanted to remove and the man overboard flag needed to be attached to back stay. In order to do this task I had to climb to the very top of the mast, attach a carabiner from my harness to the back stay, and work my way down the stay from the top.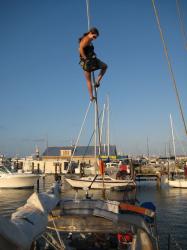 I'd be lying if I said I wasn't freaked out during the task, but man what a rush! I am grateful Bill was belaying me and lowered me slowly down the stay. The most frightening point was when I had to let go of the stay and let myself swing back to the mast. Once I finally let go and made it down I received a round of applause from the men in the boat across from us.
We even established a morning ritual while we were at the marina. The ritual went like this: 1. Bill gets up early and goes to the Plantation (great internet café run by a nice Dutch guy). 2. Jeremy and Jamie get up around 8 or 9. 3. They think that coffee and internet sounds great and leaves for the Plantation. 4. In the meantime Bill comes back to boat in hope of getting boat projects done. 5. Bill spends rest of morning wondering when the heck Jeremy and Jamie are coming back.
During those nights we went out to enjoy the novelties of Key West. On the first night we had dinner at the infamous Margaritaville. We had a great waitress who jovially bantered with us throughout the evening. We made it to Mallory Square one night to watch the sunset and the street performances that followed it. On Monday night we cruised venues of Duvall street and listened to some amazing live music. One musician was particularly spectacular. He was sipping beer and playing a good selection of classic rock on his guitar.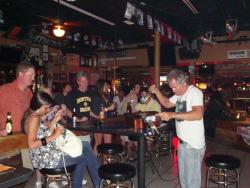 During his performance he used several complicated tricks including playing his guitar with 2 beer bottles!
We sailed twice while we were at the marina, once was the Mallory Square run with Jeremy driving and the second one was a trip out to play during the day with me driving.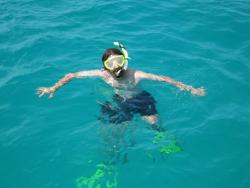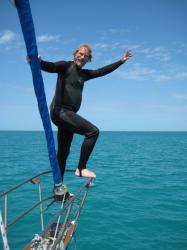 On the second trip Jeremy and Bill broke out the snorkeling gear and enjoyed the water while I sunbathed.
After St. Patrick's day we decided the marina was a little too expensive to maintain. We found out that the mooring field was only 15 dollars a day and included free dinghy dock, Laundromat, and showers. We have continued to stay in the mooring field, hunkered in against the constant fronts. Our adventures slowed at that point, but we still had a few.
One day Bill and I ran in to get a beautiful hammock for our boat. He ended up getting one of the swinging chairs for his boat too.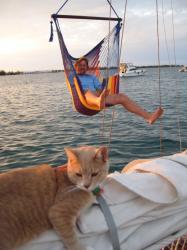 We also made two attempts to go out in the high winds in order to gain experience while Bill was still here to help us out. The first time went well. Jeremy was relieved that I do eventually get scared if we keep heeling over to a greater degree.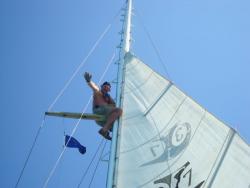 Things were going so well, that rum was in order. The next thing I knew Bill was hanging from the spreaders taking pictures. At one point he even made an excellent figure head for our bowsprit.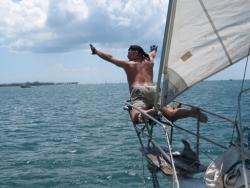 The second time we went out I got a little freaked out. We went into outside waters and the waves were 5-7 feet. I have never been in waves so big before and I was a bit nervous. The bowsprit would go under the water and waves kept crashing over the sides of the boat. If you faced in the wrong direction you would rock side to side to an unnerving extreme. I managed to keep my cool until my cat decided that he would run out of the cockpit to the front of the boat. Jeremy forced me to stay in the cockpit while he chased him back.
Bill is now probably in Oklahoma. He found a little classic car he couldn't say no to while we were making repairs in Bradenton Beach. He decided to drive the car back home to Alaska with a few pit stops along the way. We wish him luck, and hope he will brave the fake bacon and cat hair once more this summer for a sailing trip up to Maine.