Break-Out-Another-Thousand. Evidently we have purchased a hole in the water into which we get to throw all of our money... or so the cliché claims. These are both sayings I've heard plenty of times before, but somehow they feel all the more real when you begin to live it.
Florida has been experiencing an abnormally long cold spell, with temperatures here in Sarasota literally dropping down to freezing. I didn't need much more of an excuse than that to fire up our Dickinson heater. I retrieved the manual from the small portable filing cabinet full of manuals and read through it carefully -- any time fire is burning in our boat I'm going to be a little concerned.
Finally convinced that the Dickinson diesel heater is as simple as any other Diesel heater I've ever used, I opened the fuel flow valve to allow some diesel into the bottom of the heater. Within a few seconds a slow drip onto the teak sole informed me that things weren't going to go as easily as I'd hoped.
I traced the leak to the fuel supply valve, located a properly sized wrench, and attempted to tighten the fitting a quarter turn. The end did turn easily, but primarily because the fuel supply valve itself had crumbled under the slight torque. The slowly dripping leak was now a very rapidly dripping leak, and I was still cold!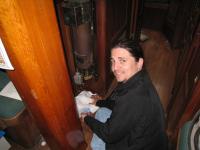 I shut off the flow of fuel, thankful for the inline valve already installed in the fuel line, then mopped up the mess as best I could with paper towels. I got on the phone to Dickinson who informed me that our stove, the Chesapeake, was discontinued in 1980 and there are no longer after market parts available. With further research we found a website advertising the necessary part for $150, and quickly ordered one.
Two hours later, the phone rang and the website owners were calling to inform us that the part was in fact not available. It was then I finally go the full story: evidently the Chesapeake was discontinued in 1980 because it was considered a fire hazard, which is why replacement parts were no longer offered. Yes, they had spares, but no they would be unable to send them to me due to liability. Their suggestion was to buy a new stove: suddenly the B.O.A.T. acronym was seeming a little more fitting, as this would cost a little less than a thousand dollars.
Yes, some day we likely will have a new diesel heater, but for now there's too many other things on the list of higher priority. Instead, we bought a $15 110v space heater which we use sparingly to take off the biting chill when the temperature drops too low in chilly Florida.
Later that evening Jamie wanted to do the dishes (maybe "wanted" is the wrong verb choice here) so we decided to try and fire up our hot water heater. Before flipping it on, I pressed the pressure relief valve to confirm there was water in the tank -- indeed there was, and it kept gushing out after I released the valve which evidently had not been tested in quite some time. According to the original manual, the hot water heater was installed in 1977 meaning it was installed when the boat was built -- we've got a new pressure relief valve but I'm now highly suspicious that the entire unit likely has limited life yet. We shall see.
And instead of dwelling on the reality that our new boat is a hole where we will be throwing all our money, we'll focus instead on the aspects celebrated by the river rat in Wind In The Willows: "There's nothing ... absolutely nothing ... half so much worth doing as simply messing around in boats."