We always love to get back to sailing after being stuck somewhere for a while. However, this time we left our last port with some sadness. Marathon was the perfect environment for making new friends with all of Boot Key Harbor's scheduled events and steady boat traffic.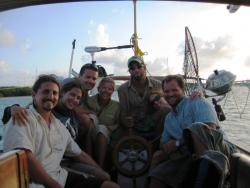 It was almost guaranteed that we leave behind some connections, but we never imagined we would meet such great people.
Being young, we are always the minority in the cruising lifestyle. Even though the sailing retirees are always very nice, we tend to jump on the opportunity to interact with those of our own age group. We were very pleased to see Chuck and Michelle at the Wednesday meet and greet and even more glad that we went to see Chuck perform at Hurricanes that night.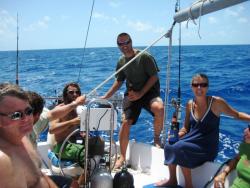 This led to many great times with a wonderful group of people that included Nicky and Jim, Michelle and Chuck, and Chris. They had all met during their previous travels the same way we met them.
Jim and Nicky are newlyweds who borrowed a sailboat from Jim's father for their honeymoon.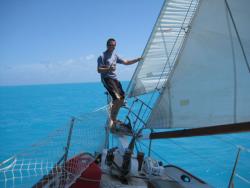 They are exploring the sea while fixing up the sailboat. Michelle and Chuck are life sailors working odd jobs here and there in order to maintain the cruising lifestyle. Chuck is also a very talented musician whose presence inspired Jeremy to play his guitar on a more regular basis.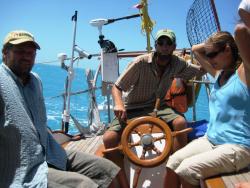 Chris is an entertaining guy who is boating solo on his 27 ft sailboat that had recently been dismasted.
In a short time we had some good times with them and grew very fond of them all. It was especially nice having female friends again.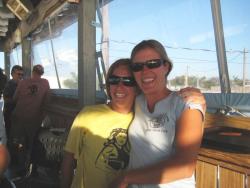 I enjoyed seeing Michelle and Nicky at the morning yoga sessions and having coffee while listening to the morning net over at the Caloosa (Michelle and Chuck's boat). I know Jeremy also appreciated having guys to converse with and he really enjoyed the sailing and guitar tips.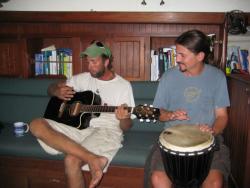 Our times together also included my first snorkeling experience out at Sombrero Reef(5 foot waves don't make for a great first time out), our first experience double anchoring, and several get-togethers on the Miramar or the Caloosa for drinks, music, games, and conversation.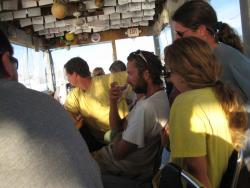 We also had a few meals out together at the locals seafood venues enjoying good food, drink, and company. All and all a wonderful time. We hope we will continue to hear from everyone and that we will someday meet up again.