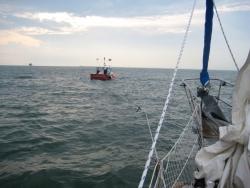 Our intention to quickly head up the outside toward New England was aborted when some thunderstorms passed overhead and the winds picked up beyond our comfort level. Heading back into the Chesapeake, our steering failed again and we discovered how difficult it is to take down the sails when they're full of wind. (Normally you turn up into the wind which releases the pressure and makes it simple.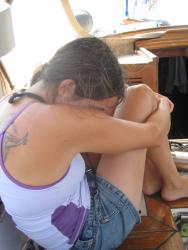 We've since had it pointed out that even without steering all we really needed to do was tighten the sails and let the boat turn herself into the wind which she naturally does under sail.) With the sails down, the prevailing currents started carrying us toward a nearby container ship, so for another first we dropped our anchor in over seventy feet of water. The short trip ended with another visit by our new best friends, Tow Boat US, who kindly towed us back into Norfolk for repairs.
I watched the mechanic closely to determine what I'd done with my repairs to the steering. He spent much more time cleaning up all the pieces, removing metal filings and rust, spraying everything down heavily. He replaced the split washer, and exchanged the 3/4 inch bolt with a longer 1 inch bolt to get a better bite. And he gave us a healthy bill to encourage me to do it right myself next time, suggesting that there wouldn't be another time as he was confident in his repairs.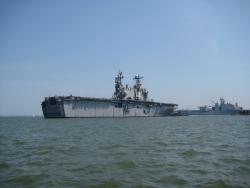 With Jamie's conference only a few days away, we made the decision to head up the Chesapeake to Baltimore for Jamie's PT conference, and a chance to visit with Bill again, showing off how well we learned everything he taught us. We waited out some bad weather, anchored in front of the marina where we'd gotten our repairs, then set off looking forward to mild inside conditions. A couple hours later, a wall of blackness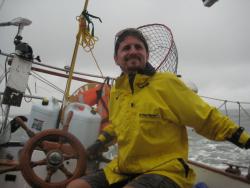 started moving toward us, and we got to work lowering sails and preparing to ride out a little squall. The winds picked up off our bow, and the flat calm waters quickly began building into larger and larger swells. We were convinced it would just blow over, but the waves continued to grow from two feet to four feet and rising, closely spaced and making for a very rough ride. Finally realizing it was here to stay, we turned around and with our single stay sail began flying toward the protection of the nearest cove upwards of eight knots.
It was a long couple of hours getting into protected waters, and once safe we laughed at how our biggest storm too date was on the "inside" where we had expected a nice lazy, comfortable trip. Our final anchorage that night was in someone's front yard, in the company of a few other sailboats. The following morning sunshine brought out dozens of locals in kayaks who paddled up for friendly conversation before we headed out again.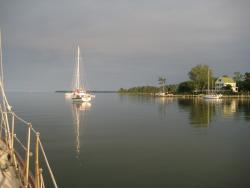 Our next stop was Deltaville, a cute little sailing town on the Western shores of the Chesapeake. The channel into the protected anchorage there was windy and barely wider than our boat, but the waters were as calm as we've ever seen. We went ashore and borrowed a couple of bicycles from the nearest marina, heading into town for ice and to get a little exercise.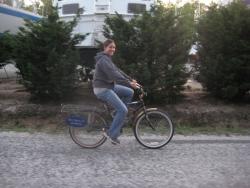 The town had a comfortable, laid back feel, and had Jamie found a PT office, I suspect she'd have applied for a summer position. Instead, the following morning we headed north again, motor sailing up to Solomon's Island where we hooked up to a mooring ball for the night.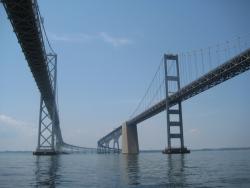 We talked to some other Tayana 37 owners who suggested it was a couple of days still to Baltimore, so we got up at first light and underway by 6 am. Winds continued to be light, so we motor sailed the whole way, passing Annapolis by early afternoon, and reaching Baltimore by 6pm. Bill was waiting for us on the docks, helping us tie up on the city docks right in the heart of downtown.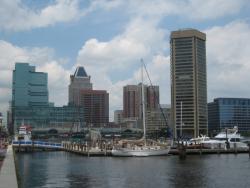 Baltimore gave us plenty of time off the boat, stretching our legs and exploring the town. Jamie earned some continuing education credits at the conference, and I used the time to catch up a little on work.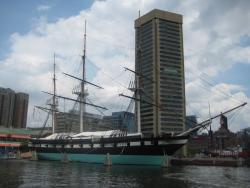 Jamie also decided to sign up with Comp Health as a traveling PT, and is now focused on getting certified in a few New England states to give her choices as to where she'll be working this summer.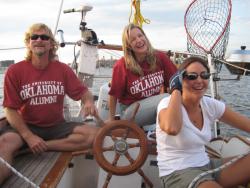 The week passed quickly. We greatly enjoyed our visit with Bill and his friend, Dee Ann, seeing the sights, climbing through a tall ship in the harbor, enjoying the local restaurants (including several Vegan ones), and even getting out for a pleasure sail.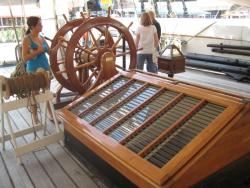 We tried our best to convince Bill and Dee Ann to come along on the next leg of our journey, but here it is just Jamie, Quixote and I making our way back out onto the Chesapeake, fully stocked with food, water, fuel and ice.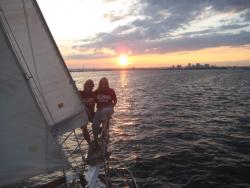 Being the weekend, there's dozens of motor boaters zooming past us in their hurry to get wherever they're going, sending out colossal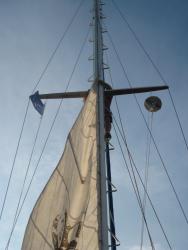 wakes and generally being their unfriendly selves. We'll continue North to the top of the Chesapeake, and then through the C&D canal into Delaware Bay. Our hope is to beat a storm, reaching the outside quickly and finally making our way up to New England. How well plans and reality match up this time is yet to be seen.