Jeremy and I had an apartment rented in Paris for the week of the conference. I admit I had been looking forward to this. It is nice to have a place to leave our bags and I had been dreaming about an actual bath tub for months.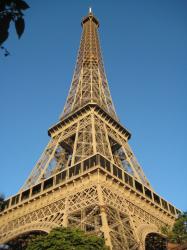 Once off the train we rushed across town to the apartment and nearly missed Fabien, who manages the rental. He was very understanding, but he was late for another meeting and gave us a very quick run through of everything. This became problematic later when I attempted to use the washer/dryer. It is very hard to determine whether the problem is you or the device when everything is in a foreign language.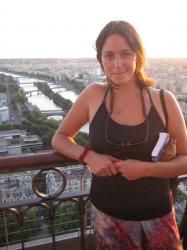 Once settled in our first order of business was to get a snack and visit one of Jeremy's regular clients, Michel Myers. He was very nice and it was interesting to meet someone Jeremy talks so much about.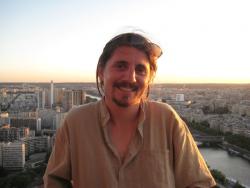 Afterward, we decided to go see the Eiffel Tower or Tour Eiffel. We were lucky and our apartment was in walking distance.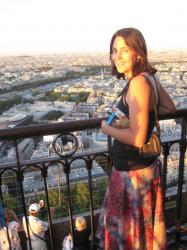 I had heard about the lines to the top and was surprised that we managed to get through the ticket line rather quickly. We had the best possible timing and we reached the top in time for the sunset.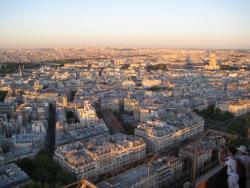 It was pretty spectacular and very romantic. However, just for those women who plan on going someday, don't wear a skirt or dress. There is one hell of a breeze up there and I was pretty grateful that everyone was mesmerized by the view of Paris.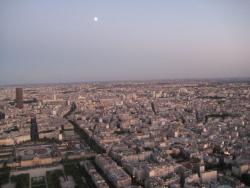 (How does that rhyme go, I see London, I see France. . .)
We learned a little history while we were there as well. We were surprised that the tower was only meant to be a temporary structure for a world fair and that many Parisians had thought it ugly.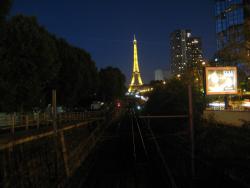 It took a few smitten individuals and the passion of its maker to turn it into the symbol of romance it is today. It is prettiest at night and one of the cool things about the tower is that every hour on the hour it flashes its many lights for several minutes making it twinkle like a Christmas tree. Several spotlights were added to the top for the millennium celebration as well. The only downside to the whole experience is that all the restaurants nearby bank on the nearness to the tourist attraction and don't bother to have good food or service.
Also, you have to dodge pushy vendors who peddle cheap miniature Eiffel Towers.
The next day was the first day of the conference. There was only a code sprint planned for the day, but Jeremy wanted to attend. Unfortunately, that was the morning Jeremy's computer decided to sound like it was dying. The fan had been having issues for a long time, but that morning it sounded like it was in its death throes. Jeremy panicked and spent all morning on the phone trying to find an English speaking business that repaired computers.
By the time we actually caught up with the individuals in charge of the repair place, the computer sounded fine. The whole experience was not particularly fun and the people in charge (who looked too young to drink in our country) had no qualms regarding lying about their whereabouts during work hours.
By the time we made it to the conference venue it was late in the afternoon.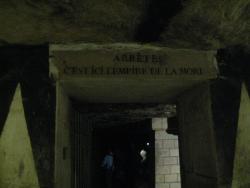 Jeremy did not get to spend much time on code, which turned out to be not so bad. Apparently, the wifi had been problematic all day. He did get to say hi to some friends and introduced me to many people who had only been names before; including his partner, Narayan.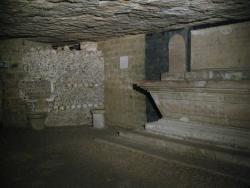 The second day of the conference was more entertaining. Jeremy wanted to attend a morning lecture so I planned to wander the arrondissement by myself. We agreed to meet up in the afternoon to go see the Catacombs.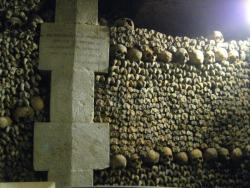 Unfortunately for me, I had not realized that the venue was nowhere near the few points of interest in that area. Nor was it close to any cafes. As I desperately tried to match the map in my guide book to the map posted at the bus stop to no avail, I noticed a woman standing nearby.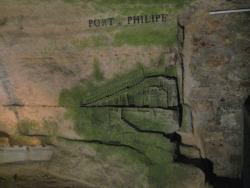 I approached her and attempted to ask her in french where I could find le Gare Montparnesse. She turned to me and replied to my pathetic attempt at french in perfect english, "I could let you continue, but it seems too cruel." It turned out that she was another computer geek here for the conference.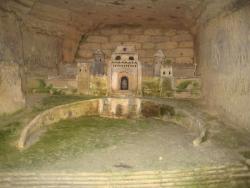 She told me that there was a wives of geeks club that met in the mornings to go explore the city. They had already left for the day, but she gave me a number to call for the next day.
After I left her I wandered a bit on my own, but I really only managed to get a late breakfast and a better feel for the transit system.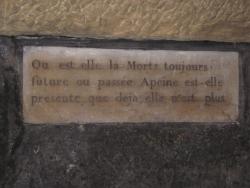 I rushed back to the venue to meet Jeremy for our afternoon date. The Catacombs was a pretty cool experience. For those who have not heard of them, they used to be mining tunnels underneath Paris. In the late 17th century several of the cemeteries in Paris were becoming over crowded.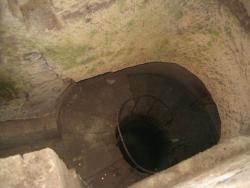 One cemetery, Les Innocents was so bad that it was spreading disease throughout the nearby neighborhoods. It an attempt to rectify the situation the city began to build 3 large cemeteries. In the meantime the decaying bodies from the old cemeteries were moved into the tunnels of the old quarries.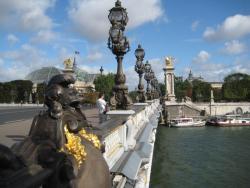 Today you can walk down a dark and rather long path and see thousands of bones perfectly stacked into a large wall along either side of the tunnel. Sometimes there are patterns or designs in the bones.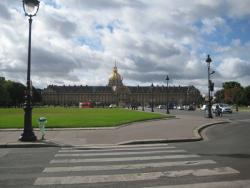 In a couple of places there are cool things carved into the rock. These were made by the miners(apparently mining is boring). You will also see plaques here and there containing facts about of the catacombs or a bit of macabre poetry.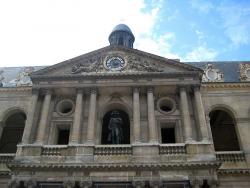 It is an arduous and dizzying spiral staircase to get down/up from/to the catacombs and on your way out they check your bags to make sure you haven't stolen any dead people.(It actually happens!)
The next morning I met up with the wives club at a cafe. We split up into small groups according to what we wanted to see.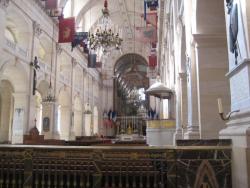 I chose the group that was going to see the Rodin museum. There were only 3 of us, but both my companions were very nice. I wish I could still remember their names. Especially since my camera died before we made it to the museum and one of them was supposed to send me pictures.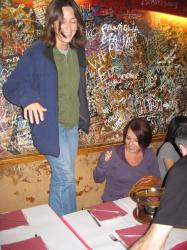 On our way to the Rodin Museum we got a bit distracted. Right next to the museum is a spectacular bridge and Les Invalides. After photographing the bridge we wandered over to Les Invalides.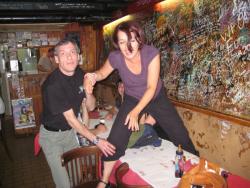 This immense building was built by King Louis XIV, but it now most famous for being the final resting place of Napoleon. It was originally built to be a home and hospital for old or injured soldiers. It is now a complex of buildings that contain the Musée de l'Armée, the Musée des Plans-Reliefs, and the Musée d'Histoire Contemporaine, as well as the burial site for some of France's war heroes.
We were quite curious about the building and we decided to see how much of it we could see without actually purchasing the tickets. We actually saw quite a bit, but was unable to see Napoleon's grave inside the huge gold dome. One of us had a museum pass and went in to photograph it and describe it to us.
We finally made it to the Rodin Museum with a few minutes to spare before it began to rain.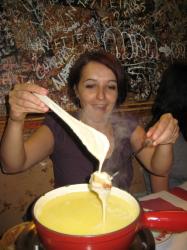 Rodin was primarily a sculptor, so the collection contained mainly statues. A few of the statues were incorporated into a cool garden on the grounds that we unfortunately gave less time than we normally would due to the rain. It was not that big of a deal as many of the outdoor structures were parts of other pieces inside.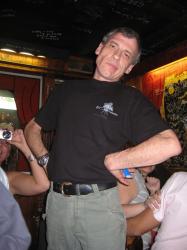 I was surprised to see how many repeats there were of the same sculpture and several of the pieces were obviously modeled after the same person. I must admit, as much as I like his work, after 3 floors I was pretty over it.
After the museum it was time to meet up with the rest of the group for lunch at a Fallafel restaurant.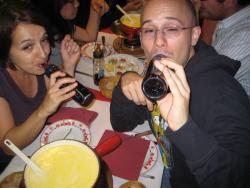 The food was pretty good and we discussed what things we all wanted to see after lunch. My group and I agreed that shopping sounded pretty good. One of us said that they knew of a great area with loads of quirky shops. We quickly set out with the addition of the two more girls.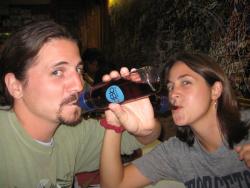 The area turned out to be a street on the Isle de St. Louis. It was as cool as she said it was. All the shops were pretty unique including an odd little store that sold hand made marionettes. I also got to try a special type of ice cream that you can only find in that area.
After shopping I went to the conference to meet Jeremy. Marco and Laura were supposed to arrive that night so we rushed home to make sure everything was ready.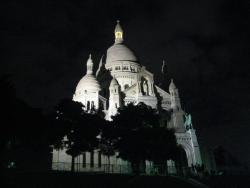 I was nervous about meeting Jeremy's Italian friends, but I quickly felt like I we had all been friends for years as we headed out to the restaurant we selected. The restaurant was recommended to us by Jeremy's friend, John and was also listed as a must see in our guide book. Boy did it live up to expectations!
The restaurant was in located in Montmartre and was a little difficult to find, but once you found it you never forgot it.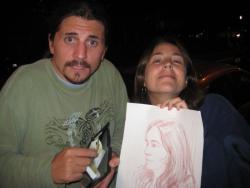 You walk into this tiny restaurant and the first thing you notice is writing and drawings everywhere on the walls and on the ceiling. The seating is simply two long strips of tables on either side of the restaurant. In order to sit along the wall you have to climb over the table. The very entertaining waiter was happy to help the girls climb over the table.
The food there was as unique as its decor.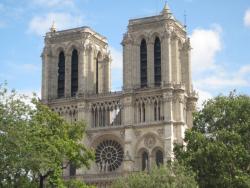 You paid a flat fee that got you a little sampler of meat, cheeses, and pickled veggies; a vat of either meat or cheese fondue with bread to dip in it; and endless baby bottles filled with cheap red or white wine. That's right, I said baby bottles. We had a great time drinking and watching the hilarious antics of our waiter. We got more then tipsy and embarrassingly enough managed to videotape a lot of it.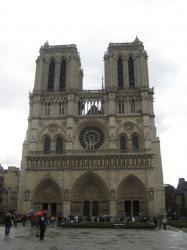 And no I am not sending anyone the videos!
After the restaurant we decided to see the Sacre-Coeur since we were in the area. The Sacre-Coeur is a Catholic Basilica located at the top of Butte Montmartre, the highest point of the city. To reach it you either climb a heck of lot of stairs or you take the funicular, which is a type of air tram that is pretty cool. Guess which one we did. At the top a group of drummers encouraged us to dance as we walked through the gates to the basilica.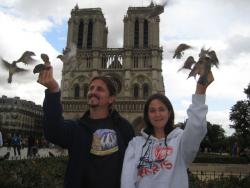 We couldn't actually go in the Sacre-Coeur as it was dark and late at night, but it was very beautiful in the moonlight. Couples sat here and there around the building enjoying the view of Paris from the Butte. It was quite impressive.
Despite the late hour we were reluctant to end the night, so we wandered into a nearby bar for a drink. Jeremy made the mistake of complimenting a very short, shabby looking man on his drawings as we entered the bar.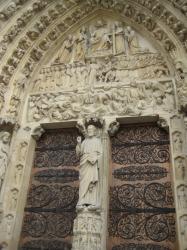 The man followed Jeremy in and started talking to us in a surprisingly strong Irish accent. This unfortunately led to the man insisting on drawing a picture of me for a very "fair" price. The picture was pretty. Too bad I don't actually look like that.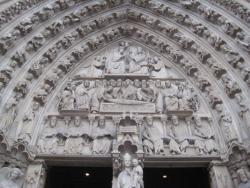 I recall that the next evening at Jeremy's birthday party I described our evening to someone by saying that we had gotten drunk at a cool restaurant, saw the Sacre-Coeur, and then got taken advantage of by a leprechaun in a bar. The guy was quiet for a moment and then he said "Wow, you guys sure know how to party."
The next day we went to see Notre Dame Cathedral. Outside the huge church a man was selling a unique picture opportunity.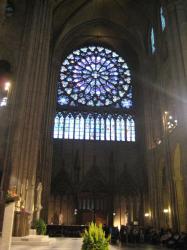 For one euro you bought bread from him that would attract the cute, tiny birds that lived there. He would then take pictures of you feeding the birds with your camera. It is a pretty neat experience that made me feel a little like I had just walked out of Mary Poppins.
Notre Dame itself was a bit of a let down despite it being a huge and intricately designed building.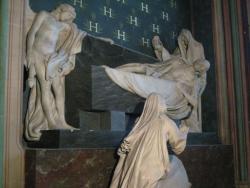 It was starting to rain so we decided to forgo the outside tour of the church gargoyles, which might have been very cool. Inside there were beautiful stained glass windows and several alcoves with scenes depicted by life-sized statues. Unfortunately, the interior was very crowded and touristy and we felt compelled to move through it very quickly.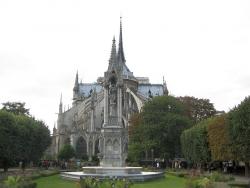 I think that we might have enjoyed it more on a different day.
Afterward we decided to wander the grounds of the Louvre. It was huge and amazing. It was much cooler than I imagined and we vowed to come back to see the interior before we left. We explored the grounds until it was time to head over to the conference for the closing speech that Jeremy said was a must see.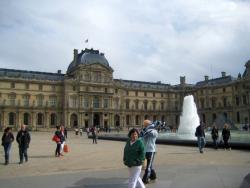 He ended up regretting it as it was the most boring, pointless speech any of us had ever heard. We later met up at a nice french restaurant for a Drupal "old guard" get together/birthday party for Jeremy. There we experimented with french cuisine and chatted away. By the end of dinner Laura and I were tired and pretty sick of computer talk.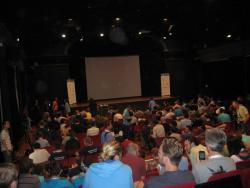 When everyone wanted to continue on to a bar we informed our better halves that we were returning to the apartment to get some rest.
We were grateful for the extra sleep the next day. We had a full day planned, but we will leave that for the next entry. Stay tuned for Part 3.