I have been looking forward to writing these blogs the whole time I was in France and now that I am here in front of my computer in an American coffee shop I feel a little overwhelmed. Where does one start?! From the beginning, I guess. I will split it into 3 parts in order to avoid the world's longest blogs.
This blog will contain more than the usual number of photos. However, I feel the need to state that the pictures simply don't do justice to much of what we saw.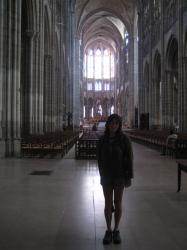 France was an amazing adventure and I am glad I get to share it with you.
Jeremy and I arrived in Paris cranky, tired, and amused by AirFrance's standards for an aircraft.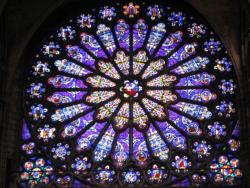 I had booked a cheap 2 star hotel in the St. Denis area on the edge of Paris for our first night. We managed to get to our hotel with much difficulty, unloaded our bags, and went out to explore the area around our hotel.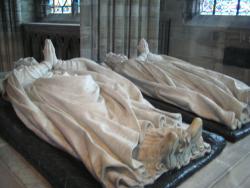 St. Denis can only be described as the most impressive ghetto I have ever seen. The neighborhoods were dirty and the population made up of mainly minorities, yet tucked here and there were a few worthwhile sights.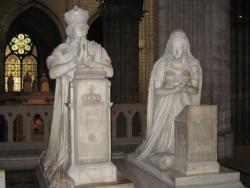 The one that interested us the most was the beautiful Basilique de St. Denis.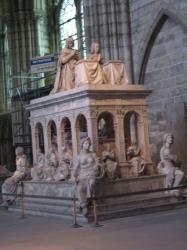 This church was my first experience with French Gothic churches and I was in awe. The legend behind this cathedral is that St.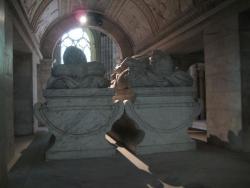 Denis, after being martyred by beheading, carried his head 2 miles to the current site of the church giving a sermon the whole way.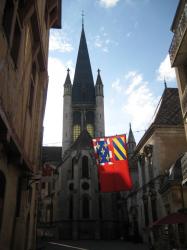 This church, besides being an architectural gem, was also the burial site of most all of the french royalty and we were able to admire the impressive, if not egocentric tombs.
On our second day in France we hopped on a train to a region of France called Burgundy.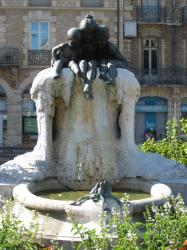 We arrived at its capital city, Dijon only in time to check in, figure out where to rent bikes and have dinner. It took a fraction of that time to fall in love with Dijon.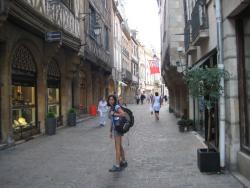 This city was undeniably charming. Everywhere you looked there were arches, fountains, and old cobblestone or brick streets.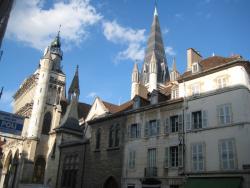 Jeremy and I got a room at a 2 star hotel that our guide recommended. We thought it was pretty perfect. We were on the 3rd floor(really the 4th by USA reckoning).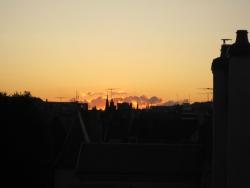 There was no elevator and the shower was down the hall, but the room was clean, comfortable, and wow what a view.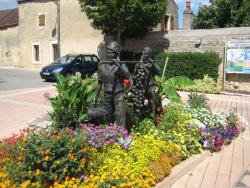 The next morning Jeremy and I rented bikes from the tourist information center and got directions to the famous wine route that produces some of the finest Pinot Noir and Chardonnay grapes in France.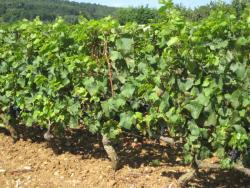 It was a long and traffic-filled ride out to where the actual wine route was, but it was truly worth it.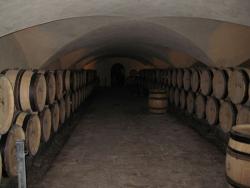 The route along the Cote d'Or or the golden coast was a quiet road winding through miles of beautiful vineyards and small, picturesque towns.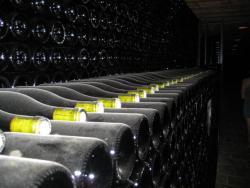 We bicycled along admiring the scenery and keeping our eyes out for signs that said degustation(wine tasting. Our first stop was at a private home where a sweet boy of about 13 tried desperately to communicate with us.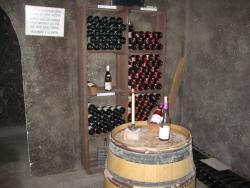 We struggled through a quick wine tasting and continued on. Next was the caves of Marsannay where we wandered the caverns of barrels and bottles.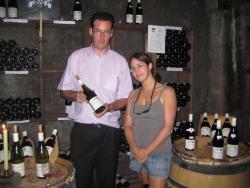 It was also where we tasted many wonderful wines in a dark, candle-lit room and was informed by an indignant wine steward after mentioning that I tended to prefer pinot noir that we don't drink the grape, we drink the region.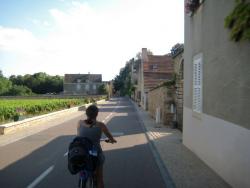 The gentleman was actually quite nice and we enjoyed talking with him.
That night we found a surprisingly nice 2 star hotel with a pool and courtyard dining.
We quickly showered and dressed up for a nice late dinner in the courtyard.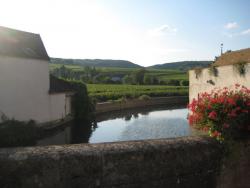 Unlike Paris, next to no one speaks English there and we were glad when a woman at the next table came to our rescue as we struggled through ordering a 3 course meal.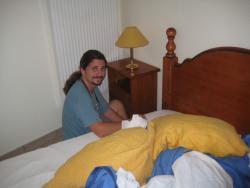 After the wonderful meal Jeremy and I wandered through the street hand in hand until we reached the little canal I had admired as we rode into town. It was there that Jeremy asked me to marry him and where I said "really?" and eventually "yes" when I realized he wasn't joking. I think that life must have a rule about days, or nights in this case, not being entirely perfect because that night Jeremy had difficulty sleeping. He tossed and turned as I slept soundly.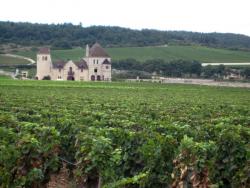 My only memory is of feeling Jeremy shift position and the next thing I knew my head was 2ft lower than my feet.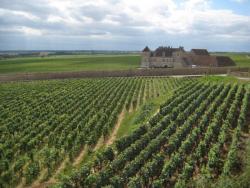 If you want to experience truly intense embarrassment try explaining in broken french to the cute little french girl at the front desk of a nice hotel that you broke the bed.
The next day we biked down to a vineyard that used to be an abbey.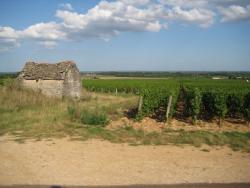 It had a beautiful building that used to be the monastery and I couldn't resist the urge to see the inside although I was not that interested in wine tasting there. It was not even noon yet.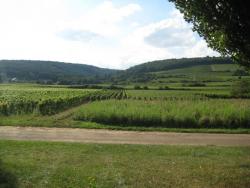 The building was very pretty, but the blonde performing the tasting was so snooty that I wanted to leave right away.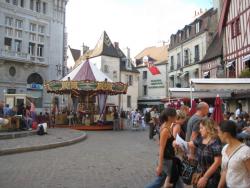 Jeremy wanted to taste the wines despite her insistence that there really wasn't any point. I bit my tongue and waited while Jeremy questioned her and sampled the wines. We spent the rest of the day working our way back to Dijon for another night in our favorite hotel sampling the wines we missed along the way.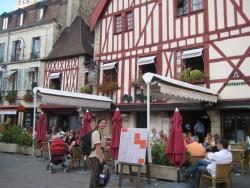 One of these degustations took place at a private home of a middle-aged blonde lady who decided that our visit was a wonderful opportunity for us to practice each others' language.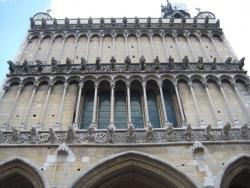 She was planning a trip to the states pretty soon and was trying to learn English. She seemed to want us to not leave and constantly tried to convince me to either work in her fields or let her adopt me; I couldn't tell. Like I've said, my french kind of sucks.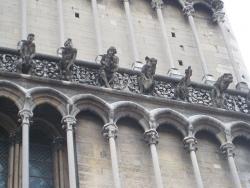 The next morning we packed up and walked to a cafe for a nice petite dejeuner(breakfast).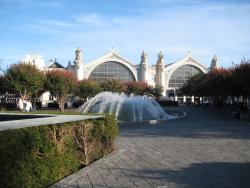 The cafe was in a little square where they had a carousel and occasionally performances.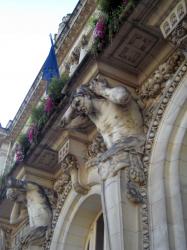 That morning a group of dutch people that ranged from the very young to the very old demonstrated some traditional dances in traditional costume.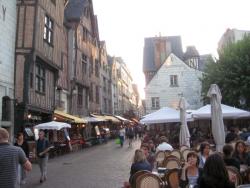 We also took a look around the large church near our hotel. It had some pretty cool gargoyles. We enjoyed the whole visit very much and were loath to leave Dijon, but it was time to head to our next stop, the beautiful Loire Valley.
We took the train to a major city in the valley called Tours.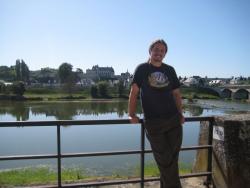 We did not love it like we did Dijon, but it definitely had its merits.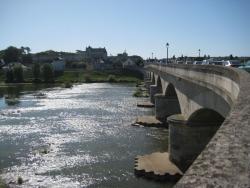 We found the recommended hotel where the only really good aspect was the owner, a sweet old man who loves to talk and dream of the places that his customers come from. We took all day getting from Burgundy to Loire Valley so we decided to just have a night out on the town.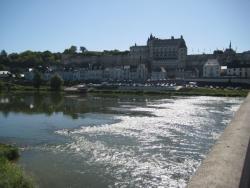 We had dinner at a great creperie and then wandered into a cool retro-looking bar where a funky looking DJ spun vinyl records from the American Motown era.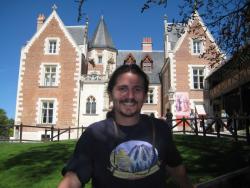 The bartender was a friendly punk with piercings and tattoos. Jeremy tried and butchered the phrase I usually opened conversation in french with. The phrase translates as "I am sorry my french is terrible". Usually everyone just smiles or laughs when I say it, but the bartender's reaction to Jeremy's attempt was to say "your right, it is terrible". He immediately took a liking to Jeremy and chatted with us as we sipped an amazing good, yet cheap punch concoction of his own making.
The next day we took a bus to a nearby town called Ambroise where we rented bikes.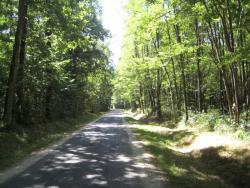 We decided to ride out to an immense castle called Chenonceaux made famous by a rivalry that existed between King Henry II's wife and his mistress.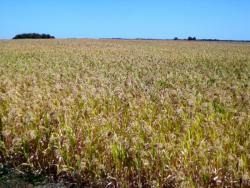 We stopped on the way out of town to take a quick look at the home given to Leonardo da Vinci by King Francis I.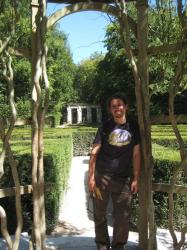 The bike paths out to the castle extended the ride by quite a few miles, but it was so peaceful and lovely that it was worth it. We rode through peaceful forests and past fields of golden hay waving in the wind.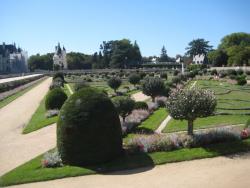 I could almost forgive the really fricken hard hills and the mile we went out of our way because we got lost.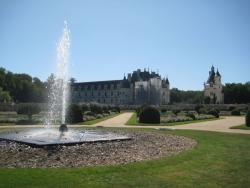 The castle was indeed something to see and we enjoyed wandering the outside where there were gardens, a maze, and the unforgettable Cher river that the castle is built over.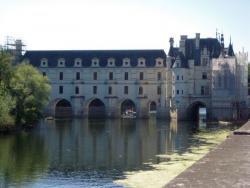 The inside of the castle, however, was over-crowded with tourists and, honestly, you can only look at dead people's bedrooms for so long.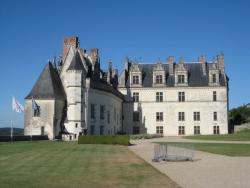 We rode back to Ambroise taking the shorter and less pretty route in order to save time. We agreed, despite being a bit castled out, that we would go to the Chateau d'Ambroise.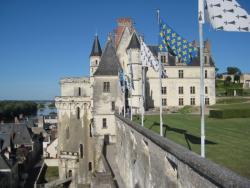 This much smaller castle is where you can find the grave of Leonardo da Vinci. It lies in a small, yet beautiful chapel on the grounds.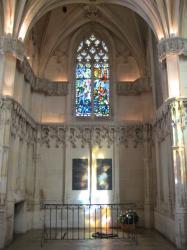 We are both big fans of Leonardo and for us, this was the highlight of the day. We also did a little wine tasting afterward and lets just say that we don't recommend the wines from that region.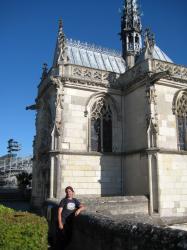 By night time we were back in Tours enjoying dinner in the old town down a little alley we had admired previously.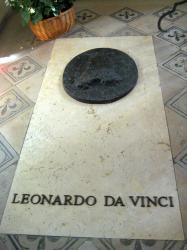 The next morning we said goodbye to the sweet old man, signed his special album book and were away on a train bound for gay Paris.